OPEN CALLS
INTERNATIONAL OPEN CALL TO ARTISTS
KUNST IM DIALOGUE
July 26 – August 5, 2018
Landshut, Bavaria, Germany
We have 5 locations for our exhibition in Landshut, Germany:
Galerie 561, Photo-Galerie Litvai, Rathaus (City hall), Rochuskapelle (Medieval chapell) and Röcklturm (Medieval tower).
Concept
The concept for KUNST IM DIALOGUE is a juxtaposition, indeed an examination of works of art, which have been created in different corners of the world. Each of the 5 different exhibition locations in Landshut will have its own theme, to which the works of art reflect. The international open call will list the 5 topics whereby the artist chooses a topic that they will explore from their own point of view. These are issues that concern us all and to which we all have an opinion. They are climate change, migration, human rights, visions and chatbox (i.e. here, artists can show art about any topic). The submitted works will be judged by a jury. This creates freedom for the artists to express their opinion, while insuring a high standard of art. About 60 contemporary artists will be showing their works during this exhibition through various media: paintings, installations, videos, performance, etc.
How to apply?
Applying is easy; send an email too: GV2014@stichtingwhitecube.nl before Feb. 28, 2018.
Your email should include:
• Your name
• Your residence
• Your nationality
* Which category you like to participate: climate change, migration, human rights, visions or chatbox
• What would you like to present (plans are allowed max. 250 words)
• A short statement about your art (max. 100 words)
• Plus max. 5 jpeg's of your art (photos of the art you want to show and/or photos that represent your artistry)
(email max. 2MB please!)
Terms and conditions
• Applying is for free, however;
• Each artists is responsible for the costs of sending and returning the artwork(s),
• Transport and storage of the artworks will be at your own risk, the stichting cannot be hold responsible for damages, etc.
• At the stichting only volunteers are working, therefore we cannot compensate you in the costs of materials, travelling, etc.
* We arranged accommodations for each artist at the local Youth Hostel, depending on our fundings price per night can vary from 0 – max. € 25,-.
* For artists outside the EU we can offer (if we get the necessary budget) a small travel compensation,
• These terms and conditions are based on the prospect of getting the financial budget needed for this project. If we cannot get the necessary budget details of this project and the terms and conditions can change, all selected artists will be informed in time about any changes,
• The stichting will do everything within their power to assist or aid artists in obtaining individuals grants at their home-countries to participate in this project,
• If an artwork is sold, we charge 30% commission,
Summary
Applications only to: GV2014@stichtingwhitecube.nl
DEADLINE: February 28, 2018
Around March 15, 2018 we will inform each artists about the selection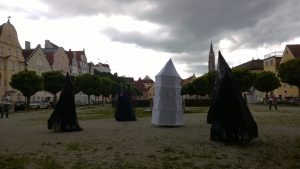 AGENDA
26 JULY

/ 5 AUGUST 2018 | KUNST IM DIALOGUE | Landshut D

10 DECEMBER 2018 | GLOBAL VIDEOS | at different locations worldwide

THOUSAND BOMBS & GRANATS – Kunsthal 45, Den Helder NL – 12 March / 28 May 2017
For the theme of this exhibition, we are inspired by the Dutch Navy-city of Den Helder. Was the Navy previously to defend our country against hostile powers, nowadays it is used for all kinds of missions; UN peacekeeping missions, mission against piracy and missions in the Mediterranean because of the refugee crisis. It made us question about war and peace; who is today the enemy and what are we actually are fighting for?
Participating artists (in random order): A+B, Albert van Loon, Bjørn Erik Haugen, Pike Räsänen, Alberto Magrin, Chrystl Rijkeboer, Richard Hughes, Carmen Heemels, Robert Roelink, Angela Alexandra-Lloyd, Jaap Borgers, Maja Kirovska, Yesim Agaoglu, Yasser Karaf, Mehreen Hashmi, Adela Wagner, Teppo Korte, Ed Hanssen and Eca Eps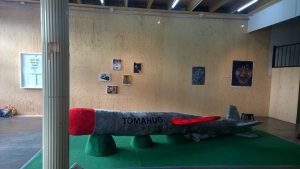 MATKALLA ONNEEN – Tehdas 108, Nokia FIN & Akustiikka, Ylivieska FIN – 16 June / 2 July 2017
2017 is the year that Finland celebrates its 100 years of independence. Dutch curator Jeroen van Paassen visited Finland in 2011 for the first time and fell in love with its landscape and culture. Since then he has visited Finland many times. To mark Finland's 100th birthday Van Paassen initiated the concept "Matkalla Onneen" (Road to Happiness). Matkalla Onneen is part of the official Centenary of Finland/the Finland 100 programme.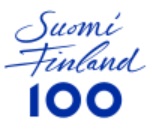 The concept of the exhibition is as follows: 20 emerging artists, including 7 from Finland, will explore Finland's culture, meet Finnish artists and take part in typical Finnish happenings. Thus, the international artists will engage with locals as well as local culture. During the project, two exhibitions presenting the work of these artists are scheduled to accompany and punctuate the travels, one in Nokia and one in Ylivieska. After the road-trip a final exhibition will take place in the Netherlands, enriched by the artists' experiences.
Participating artists (in random order): Froso Papadimitrou, Evelien de Jong, Iris Poljan, Denise Frêchet, Maria Bitka, Grietje Bouman, Thomas C. Chung, Amir Zainorin, Tom Hughes, A+B, Jaap Borgers and from Finland: Rivka Larsson, Pike Räsänen, Teppo Korte, Jouni Vesanen, Sami Ala, Emma Nurminen, Charlotta K. and Riikka Theresa Innanen