GLOBAL VILLAGE – an exhibition IRL
When the idea for Global Village came to light in 2009 we did not foresee that it would become such a success resulting in exhibitions throughout Europe. Global Village started from the wish to meet artists from every part of the globe and the wish to create an exhibition for the public at large. The name refers to the global village that the world has become on the internet.
Meeting
As artist and curator, Jeroen van Paassen felt trapped inside a small circle of galleries and artist friends. He wanted to expand his horizon but found it difficult to get into other circles without the right contacts. Internet seemed to be a solution. Joining several artists' social networks he created a virtual network with artists from every part of the world. But it didn't seem to become more than just commenting on each other's work. To further his goal of interaction between artists and public he came up with the idea of an open and international art exhibition where artists from all over the world would meet with each other as well as interact with the public. Global Village was born.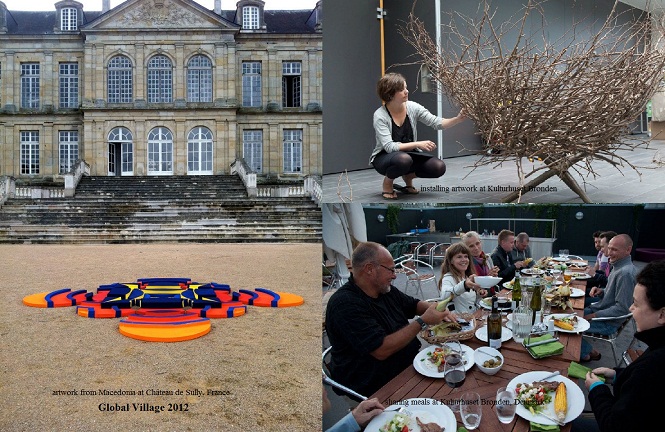 The public
At the same time that Van Paassen developed the idea of "Global Village" he met with different members of the public at large. From those meetings he learnt that most of them felt that art was reserved for the elite and the intellectuals: "a left wing hobby." Art was placed on such a high pedestal that the public couldn't relate to it anymore. This furthered the idea of Global Village and forms the basis of it.
Goal
Global Village is:
an open international platform for emerging artists from every part of the globe
an approachable exhibition with many different forms of quality contemporary art
an exhibition that travels to meet new audiences
artists interacting with each other as well as with the public
and ends in the European Capital of Culture in 2018
International platform
For an artist to develop his/her career it is essential to meet other artists, share ideas and create new opportunities. Global Village is open for applications from every emerging artist from every part of the globe. For each exhibition we select about 50 artists based on the quality of their work. The selection is made by curator Jeroen van Paassen and artist Albert van Loon.
We offer artists an international platform to meet each other, learn about each other's work, assist each other during build up, share ideas and meals. Since our first Global Village exhibition we have learnt that from these meetings many new ideas and cooperations are born. It has proven to be a starting point for an international career for many of the artists.
Approachable exhibition
In order to create a contemporary art exhibition that the public can relate to, we house Global Village in locations that have a lower art-feel. Locations where the public feels free to enter. Those locations can be fully indoors or partly in the open air. Guided tours are provided by the artists during each exhibition so the public has the opportunity to meet with the artists.
At each exhibition we aim to show many forms of contemporary art from every part of the world; paintings, sculptures, installation art, video art, performances, objects, new media, photography, digital art and street art. By showing quality art that is easy to relate to in combination with more conceptual art we create an approachable exhibition which can be enjoyed by everyone; the art-lover as well as the art-novice. The guided tours form an important tool to get the public to relate to the conceptual art as well as to the more easily appreciated works.
European Capital of Culture 2018
The European Union consists of 27 Member States, each with their own cultural background. To increase the cohessie between all differnet cultures, it's important that one takes note of each other's background and learn to understand each other, especially when the world has gotten "smaller" and "smaller".
Leading up to 2018, when Leeuwarden, the Netherlands, is the European Capital of Culture, we will organize a large number of Global Village-exhibitions (exhibitions with around 60 artists worldwide) in the EU. And we will finish in a major final exhibition in Leeuwarden 2018. At that show about 100 artists will participate, 2 artists from each EU Member State and artists from the rest of the world. For the Leeuwarden show artists that have participate in one or more Global Village exhibitions from 2010 till 2017 will be selected.
To be able to have 2 artists from each EU Member State we will organize smaller exhibitions (with around 12 to 20 artists) in the Member States where we don't hold the regulaire Global Village exhibition. In cooperation with the Dutch Embassy we have tested this concept in May 2013 in Baku, Azerbaijan and later that year in Amsterdam.
No theme
Carolyn Christov-Bakargiev, head-curator dOCUMENTA 13, made an interesting and quite radical move to not follow a curatorial concept, but rather to engage in what she describes as "conducting and choreographing manifold materials, methods and knowledges."
Christov-Bakargiev focused on the important connection of the art world to the social network and digital media:"In an art world dominated by the curatorial, to act without a predefined curatorial plan offers a possibility to both repeat the network of connectivity of the digital age, while also reflecting on its shortcomings and implications from a critical viewpoint."
Global Village follows this bold move. As it aims for artists from different countries and backgrounds, it feels strange to let a curator dictate the viewpoint. The name Global Village refers to the internet and on the internet there is no authority. When artists are free to express themselves without restrictions, the public will get a broader perspective on today's world. Selection of the art will be made, based on its quality and not its viewpoint. Therefore Global Village will remain themeless.
A travelling exhibition
Not only is Global Village open for emerging artists from every part of the world, it also actively searches for new audiences by travelling to different locations to show international contemporary art. It is held in a medieval church, a charming castle, an old factory, an empty warehouse or a brand new culture house.
All these locations have their own dynamics. To avoid being alienated we do not only cooperate with the local staff, but also with local artists. They join the exhibition, help the other artists to find their way at the unknown venue and help Global Village to reach the local public.
Local managers
For each location we have a local manager. This manager locates exhibition possibilities in the region, makes the first contacts and assists in getting an insight in the local market. He also acts as an intermediary between the foundation and the exhibition location.
Our local managers are:
Jonna Pedersen independent artist, Denmark
Richard Lang cultural organiser, Germany
Jeroen van Paassen curator, The Netherlands
Local artists meet international artists
Every 2 years we make a new selection. Mid December 2013 we present the new selection of around 50 international artists. These 50 artists will exhibite their art on the various locations. Next to those artists also 10 local artists from the Netherlands, Bavaria-Germany and Denmark will join the exhibition in their region. Stimulating the cultural exchange between the artists and giving them the opportunity to be part of an international network. Our network of international artists has expended a lott during this project and increased the career opportunities for the artists.
An approachable exhibition with contemporary art from every part of the globe, where contact between artists and public stands central proves to be just what the public and the artists want.
We have welcomed many visitors at the previous exhibitions:
2.500 visitors at the Grand Church in Alkmaar, the Netherlands 2010
 1.500 visitors at Project 072 in Alkmaar, the Netherlands 2012
     750 visitors at Château de Sully in Burgundy, France 2012
4.000 visitors at Kulturhuset Brønden in Brøndby Strand, Denmark in 2012
    100 visitors at Kapellhaus in Baku, Azerbaijan 2013 and
    100 visitors at the ABC-Treehouse in Amsterdam, the Netherlands 2013
With our project we have succeeded in bringing art and the public together and have created an environment where artists can develop their careers.
Tour scedule for 2014
17-5-2014 till 24-5-2014 Fort (bij) Abcoude, Abcoude, the Netherlands
27-6-2014 till 6-7-2014 Landshut city-center, Landshut, Germany
8-8-2014 till 14-9-2014 Kulturhus Brønden, Brøndby Strand, Denmark
See for more information about the different locations and their programs the links above (move your mouse to the "Gloval Village" headline in the above-menu and the locations for 2014 will appear).
Global Village 2014 is made possible by: