Defending Freedom
at Fort (bij) Abcoude, Abcoude, the Netherlands from 14 till 15-9- 2013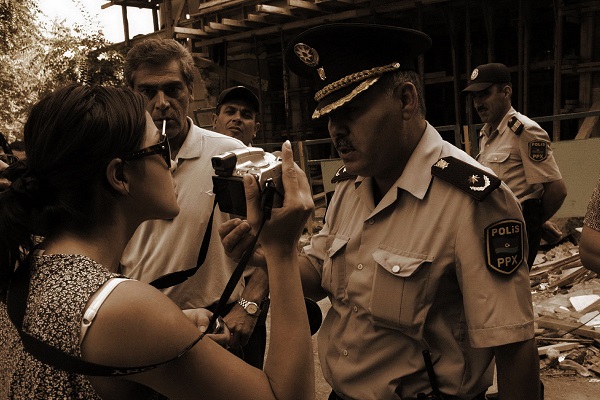 During the national Open-Monument-weekend we organize an international contemporary art show at Fort Abcoude (near Amsterdam, the Netherlands). This fort was build in 1885 to protect Amsterdam against enemies, however in its long history it never had to defend Amsterdam. Now this fort is a protected monument and lays in a small nature reserve. This exhibition takes place at the whole area of Fort Abcoude (main and side-buildings and the park around it). During the Open-Monument-weekend the fort itself in a focus-point for the visitors with a reinacting groups and a small exhibition about its past.
The theme off the exhibition is in line with the fort: Defending Freedom.
The fort was build to defend the freedom of Amsterdam and artists in general defend freedom. 20 Artists from different parts of the world (like Azerbaijan, Turkye, Peru and USA) participate in this unique exhibition that is both indoors and outdoors. With their artworks the artists contribute in protecting our freedom and rights. Making us aware about the deeper under-lining issues of today's hot-items.
An impression of the exhibition and the fort;
Program:
open for public: Saturday/Sunday 14/15-9-13 from 10 till 17 o'clock with reinacting group and guided tours, FREE ENTRANCE
LIVE: Tiger Monster Experiment Saturday 14-9-13 from 14 till 16.30 with art performance by Olivier Rycken.
Location:
Fort (bij) Abcoude
Molenweg 14
Abcoude
artworks by: (in random order); Yesim Agaoglu (Turkey), Tom Hughes (USA), Marlijn Franken, Alain Poussot (Switzerland), Jos Poeder, Albert van Loon, PJ Bruyniks, Vidal/Borges & Silva (Peru & Portugal), Cora de Lang (Argentina), Ré Noo, Joe Bochynski (USA), Sabina Shiklinskaya (Azerbaijan), Olivier Rijcken, Bea Peter, Fred Michiels (Belgium), Karen & Ingerid Opstelten, Teppo Korte & Jeroen van Paassen