ECCE HOMO – Charlemagne's Legacy to Contemporary Art
at Atelierhaus Aachen, Aachen, Germany: 25-1-14 till 9-3-14
In January 2014 we open the Charlemagne-year with an European art exhibition at Atelierhaus Aachen. Charlemagne (742 – 814) still known as a devote Catholic, the first unitor of Europe and the patron of scholarship, literature, art and architecture. Now 1.200 years after his death we want to honour his legacy by bringing these characteristics together in an unique exhibition.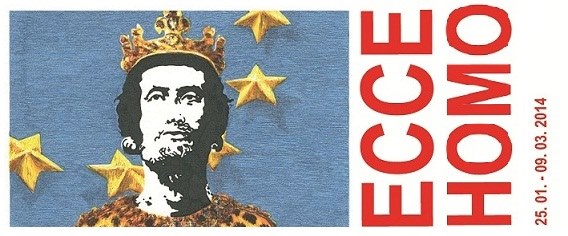 After the collapse of the Roman Empire Europe fell into the Dark Ages. A period characterized by chaos, wars and the loss of civilisation. With the reign of Charlemagne that period ended.
"A part of Charlemagne's success as warrior and administrator can be traced to his admiration for learning. His reign and the era it ushered in are often referred to as the Carolingian Renaissance because of the flowering of scholarship, literature, art, and architecture which characterize it. Charlemagne, brought into contact with the culture and learning of other countries due to his vast conquests, greatly increased the provision of monastic schools and scriptoria (centres for book-copying)." Wikipedia
Since early beginnings we tell each other stories in words or images. Stories that have been for long dominated by the Gods and their big impact on our lives, as they created and destroyed. Those stories were essential for our earlier societies as they told us how we viewed life, how to live and how to behave.
Also at Charlemagne's era God ruled the world. But now we have taken matters into our own hands, no longer afraid of His thorn. What started with the reign of Charlemagne has lead now 1.200 years later to the knowledge of looking back to the beginning of times and deeper into our bodies. We have discovered the tiniest particles of life. From devote believers we have grown into Gods ourselves; setting nature to our hands, manipulating the building blocks of life and deciding over life and death.
But what story do we tell each other?
ECCE HOMO – Charlemagne's Legacy to Contemporary Art honours the man that ended the Dark Ages and gave us the Light of Knowledge. This exhibition is focused on how our views on life, on how to live and on how to behave has changed after 1.200 years of learning.
In Charlemagne's spirit of bringing culture and learning of other countries together 7 European artists will participate together with 2 artists involved at Atelierhaus Aachen. To promote this cultural exchange all participating artist will be building up the exhibition together. Working together, sharing meals and ideas will enhance the communal atmosphere just like the monastic schools and scriptoria of Charlemagne's era.
Atelierhaus Aachen is an exhibition space for contemporary emerging art. The show several exhibitions a year in the monastery dated from 1848. Next to the gallery space it also houses 42 artist' studios. This former monastery is the ideal location to hold ECCE HOMO in January 2014.
ECCE HOMO – Charlemagne's Legacy to Contemporary Art shows the works of one of the best emerging European artists of today;
Zara Alexandrova, PJ Bruyniks, Denise Frechet, A. NikoPol, Petra Groen, Janice Orth, Alain Poussot, Monika Radhoff-Troll, Jochem Rotteveel, Odine Lang and Maria Wolfram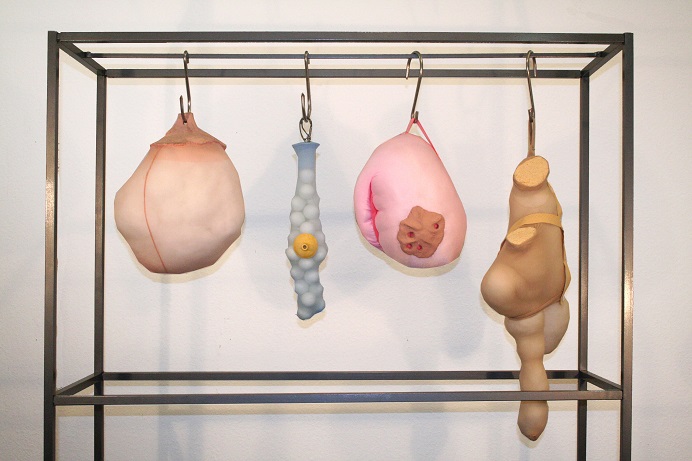 Petra Groen – Little Laboratory
European collaboration
ECCE HOMO is not only a collaboration of European artists. For this exhibition Atelierhaus Aachen, the Belgium-German association KuKuK and stichting White Cube are also working together;
KuKuK is an exhibition space in a former borderhouse at the Belgium-German border near Aachen. Every 6 weeks they show emerging artists on this unique location. In this collaboration Finnish artist Maria Wolfram is taking part in ECCE HOMO and has a solo exhibition AMONG US at KuKuk where she displays her cube-paintings.
ECCE HOMO will open on Saturday 25 January 2014 17:00 at Atelierhaus Aachen, while Wolfram's solo will open on 26 January 2014 11:00 at KuKuK.
location:
Atielierhaus Aachen e.V.
Süsterfeldstraße 99
D-52072 Aachen